Worried about pupil and staff safety in these challenging times?
Working with you in SynRJ to meet your Covid-19 needs safely!
LATEST:
Our four brand new publications in the 'Restorative & Relational Processes in Action' are now in stock in our online Store!  Click here to purchase.
Click here for a downloadable flyer.
These publications consist of both 'Student Workbooks' and 'Teachers Guides' titled 'Lost Memories: A Restorative Story' for ages 4 to 11 Years and 'Broken Windscreen: A Restorative Story' for ages 11 to 18 (+ Adults).  Both are subtitled 'Introducing Restorative and Relational Processes' (RP). Suggested ages allow for a crossover between the two publications depending upon student abilities.
Each Teachers Guide includes the following downloadable resources: Presentation for Part 1 (also printable as a full colour Landscape 'Story Book' for use with younger Children) & Presentation for Part 2, a related Role Play and Reflection Sheets.
REVIEW – Early feedback on the 4-11 Student Workbook: 
Wow! I absolutely love it. Modern, child appropriate – language is real and images are great. I think using the shoelace scenario really underpins the message for children. There is a good balance of underpinning theory in a child centred way. Get it out there…
                                 Danielle Coffey – Deputy Head Teacher & SENDCo – East Ward Community Primary School, Bury
Sign up for online workshop sessions on using the Teachers Guides and Student Workbooks. Click here for details and to book. 
You can get a taste of the great illustrations we have commissioned for these publications above and below this post.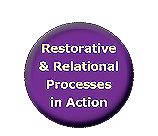 SynRJ Covid 19 Friendly Training and Consultancy!
Working WITH you in SynRJ (together) to meet your needs safely in these challenging times!
With lockdowns and social distancing in these challenging times, the more traditional form of 'Face to Face' training is now often proving problematic.
SynRJ have therefore developed an alternative way of working in the form of online workshops, which have received very positive feedback.
The content is much the same as the 'Face to Face' inputs and in some cases, the logistics of arranging sessions in this way is easier to manage.
Find more details on our About Us and Programmes pages.
Videos Introducing our Student Workbooks & Teachers Guides
'Lost Memories' ages 4 to 11 years
'Broken Windscreen' ages 11 to 18 years
This video tells the engaging and informative story of the City wide implementation of Restorative Practices in schools and agencies across Swansea. Please Subscribe for free on our Resources page to access the whole 27 minute video.
SynRJ Directors John Boulton and Les Davey (then IIRP Europe) together with David Williams and Hilary Davies (then Swansea Council) provided training and support for this whole project.